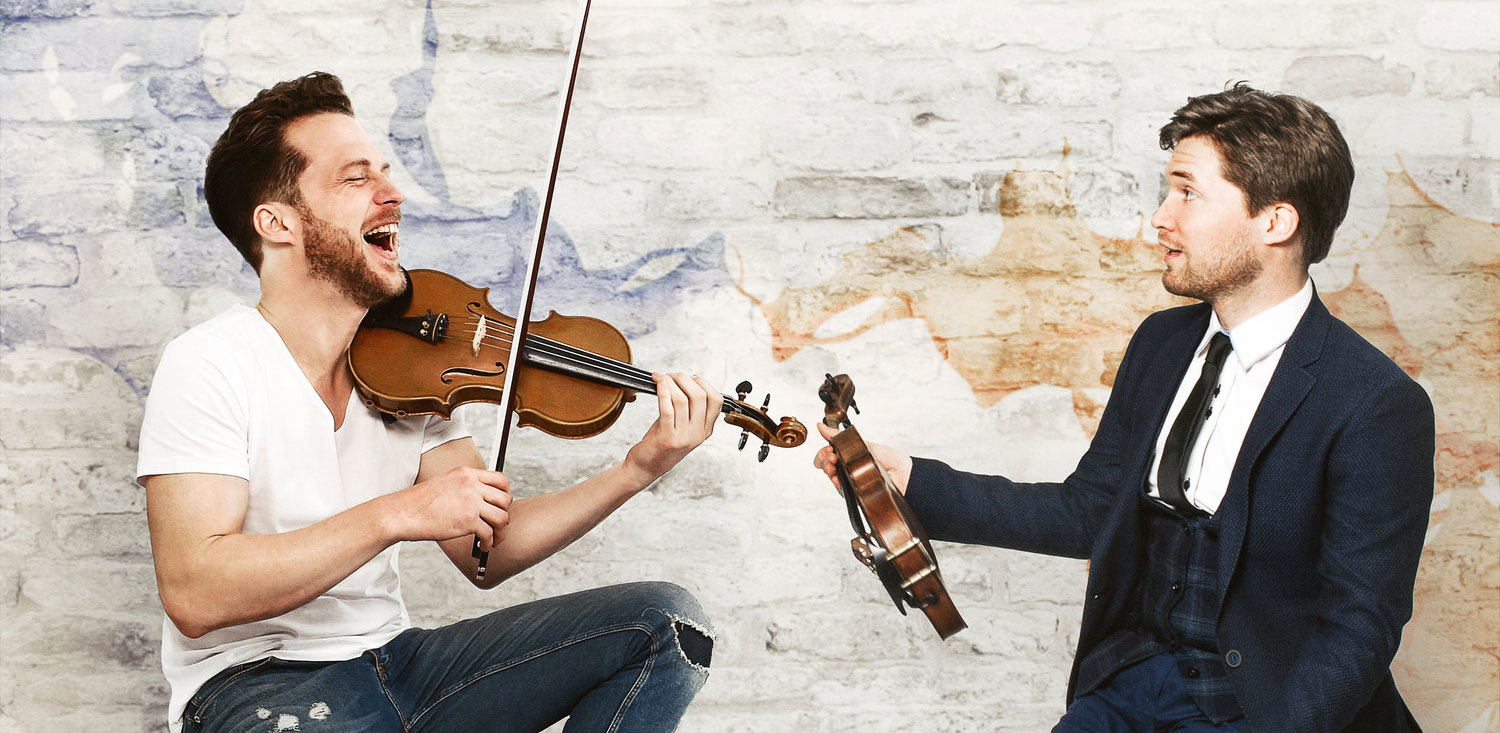 "Our Dad said I don't mind if you fight each other, just make sure you put the violins down first" – Vladimir & Anton
Vladimir and Anton are Slovakian sibling musicians with a shared rare gift – mastery of the classical violin, and these young virtuosos have been playing together for almost twenty years. Vladimir & Anton push their instruments and each other (sometimes literally) on to ever greater heights of artistic expression, joyful harmony and thrilling duels, this is sibling rivalry sound-tracked like you have never heard it before.
History lesson. Moscow 1925, Nikolaj Jablokov is born, and grows up to be a professional violinist. At the end of the second world war, young Nikolaj embarks on a journey of discovery across the Soviet Union: from The Urals to Siberia; the Black Sea to the Caspian Sea. Nikolaj marries Olga, and they have a son – Alexander, born in Kazakhstan, in 1954. Like father, like son, and Alexander grows up to be a violinist, studying at the Tchaikovsky Conservatory in Moscow. While there, he meets Katarina – a fellow student violinist from Slovakia. They get married and she brings him home to Bratislava, on the banks of the River Danube, and they have six children, all of them blessed with musical talents.
Vladimir and Anton are the boys in the middle. Growing up in a hot house full of music, with the rigours of daily study and practice; Vladimir rebelled and left for Ireland in 2004, dreaming of a life of salmon fishing in County Kerry. However, life in Dublin city proved to be somewhat less romantic, and he quickly found himself unemployed and skint. Fortunately, at Anton's insistence, he had brought his violin with him; and with a few like-minded European musicians, he started busking on Grafton Street to make ends meet. From these meager beginnings, Vladimir has established himself as one of the brightest young stars on the Irish classical scene, with concerts and recordings that show his love of both classical music and contemporary pop / crossover.
Meanwhile, Anton completed his Masters degree with honours at the acclaimed Conservatorio della Svizzera Italiana in Lugano, and is now studying for a solo diploma. Paradoxically, it is Anton who has developed an astonishing flair for improvisation; which makes for a thrilling and inventive contrast with his older brother's assured mastery and classic touch.
Old Nikolaj never lost his wanderlust, and he died in Siberia in 1983. Now two of his grand-children are brothers on a mission, to explore anew their musical and cultural history, celebrating popular classical music pieces by the great Russian composers, including Shostakovitch, Rimsky-Korsakov and Prokofiev, intertwined with the rich Russian history of folk and gypsy melodies with such enduring favourites as 'Dark Eyes', 'Kalinka', 'Dark Is The Night' and 'Meadowlands (Polyushko-polye)'.
This thrilling collision of sound, performance, ancestry and rivalry combines to wonderful effect in Vladimir & Anton's must-see live concerts, and on their forthcoming debut album, recorded live onstage in Ireland.
Grandma Olga is alive and well in Moscow, and cannot wait for Vladimir & Anton to achieve the international acclaim they so richly deserve.