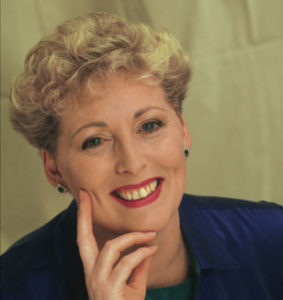 Limerick-born Suzanne Murphy began her classical studies with Veronica Dunne in the autumn of 1973 at the College of Music, Dublin, following a varied career in folk music and theatre. In 1974, while still a student, she had the opportunity to study and sing the title role in Rossini's La Cenerentola for the first company to bear the name Irish National Opera and she toured Ireland with this production. This was followed by the role of Elisetta in Cimarosa's Secret Marriage.
She joined Welsh National Opera in 1976 as principal soprano, and made her debut as Konstanze in Mozart's Die Entführung aus dem Serail, and she was featured singing music from this opera in Miloš Forman's 1984 Academy Award-winning film Amadeus.
She has performed with Welsh National Opera, English National Opera, Opera North, Scottish Opera, Royal Opera, London, Vienna State Opera, Berlin State Opera, Bavarian State Opera, Oper Köln, Oper Frankfurt, Opéra de Paris, La Monnaie, Brussels and Opera São Paulo. In North America and Canada she has given performances in New York, Pittsburgh, Washington, Minneapolis and Vancouver.
Earlier in her career, she specialised in the bel canto repertoire of Bellini and Donizetti, before moving on to the more dramatic operas of Verdi, Puccini, Tchaikovsky, Janáček and Wagner. Her recordings encompass the works of composers as diverse as Mozart, Rachmaninov, Tchaikovsky, Puccini and Verdi as well as arias from operetta and musicals and Irish Songs.
In 2001 she joined the teaching faculty of both the Royal Welsh College of Music and Drama in Cardiff and the Royal Irish Academy of Music in Dublin. Her accomplishments in music have been recognised with honorary fellowships from Cardiff University and the Royal Welsh College of Music and Drama, and honorary doctorates from the University of Glamorgan and University of Limerick.